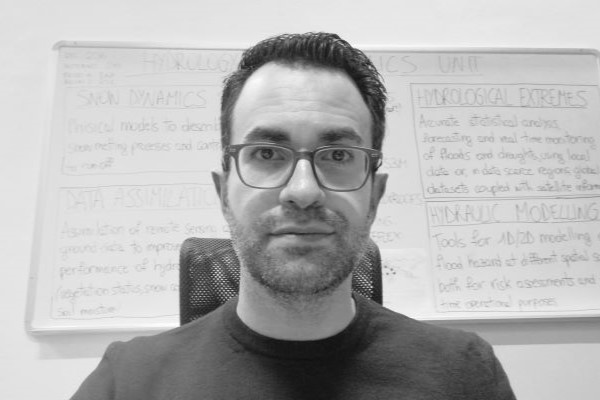 Grant Holder
Via della Madonna Alta,126
Perugia , Italy – 06128
Email: domenico.desantis@irpi.cnr.it
Research interest
The research activities mainly regard:
Process-based hydrological and land surface modelling
Remotely-sensed observation of soil moisture, vegetation and evapotranspiration
Evaluation and error characterization of climatic and biophysical data records
Model uncertainty and data assimilation
Hydrological extremes (flood and drought) monitoring and forecasting
Biography
Domenico De Santis was born in Praia a Mare, Italy, in 1985. He graduated from Environmental Engineering in 2010 with a Master's Degree, and subsequently had several collaboration contracts mainly with the University of Calabria, Italy. Also at the University of Calabria, in April 2019 he accomplished his PhD on the topic of assimilation of remotely-sensed soil moisture in rainfall-runoff models, and for the following 3 years he worked on a programme entrusted by the Civil Protection Department, as a member of the coordination structure in the group of research institutions involved. Since July 2022 he has joined the Hydrology group of the CNR-IRPI in Perugia.
Publications
REVIEWED JOURNAL PAPERS
2021

De Santis D., Biondi D., Crow W.T., Camici S., Modanesi S., Brocca L. & Massari C. (2021). Assimilation of satellite soil moisture products for river flow prediction: An extensive experiment in over 700 catchments throughout Europe. Water Resources Research, 57:6, e2021WR029643. https://doi.org/10.1029/2021WR029643

2018

De Santis D. & Biondi D. (2018). A quality assessment of the soil water index by the propagation of ASCAT soil moisture error estimates through an exponential filter. International Journal of Remote Sensing, 39:1, pp. 232-257. https://doi.org/10.1080/01431161.2017.1382745
REVIEWED CONFERENCE PAPERS and BOOK CHAPTERS
2022

De Santis D., D'Amato C., Bartkowiak P., Azimi S., Castelli M., Rigon R. & Massari C. (2022). Evaluation of remotely-sensed evapotranspiration datasets at different spatial and temporal scales at forest and grassland sites in Italy. 2022 IEEE Workshop on Metrology for Agriculture and Forestry (MetroAgriFor), pp. 356-361, https://doi.org/10.1109/MetroAgriFor55389.2022.9964755

2018

De Santis D. & Biondi D. (2018). Error Propagation from Remotely Sensed Surface Soil Moisture into Soil Water Index using an Exponential Filter. HIC 2018 13th International Conference on Hydroinformatics, vol. 3, pp. 520-525, https://doi.org/10.29007/kvhb