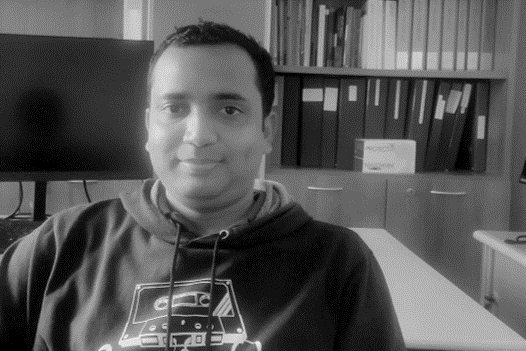 Grant Holder
Via della Madonna Alta,126
Perugia , Italy – 06128
Email: soumyaranjan.sahoo@irpi.cnr.it
Research interest
Hillslope hydrology, subsurface hydrology, surface water-groundwater interaction, hydrological modelling, and climate change impact assessment
Research at CNR-IRPI: He is working in the project "Hydrological modelling by using hydro-meteorological data derived from ground and satellite stations", wherein what-if scenario-based flood forecasting is to be performed for the Umbria region.
GOOGLE SCHOLAR ID – ORCiD – RESEARCH GATE
Biography
Soumyaranjan Sahoo was born in Cuttack, Odisha, INDIA in 1988. He received Bachelor of Technology (B. Tech) in Agricultural Engineering from Odisha University of Agriculture and Technology in 2011. He completed Master of Technology (M. Tech) in 'Water Management' from Indian Institute of Technology (IIT) Kharagpur in 2014. He received Ph.D. from IIT Kharagpur in 2021. The title of his thesis is "Hillslope-based Surface Water-Groundwater Interaction Modelling for Land Use and Climate Change Impact Assessment".
Fellowships/ Merit Scholarships
Ministry of Human Resources and Development (MHRD), INDIA fellowship holder during Ph.D. and Masters (M. Tech).
University merit scholarship holder during undergraduate studies (B. Tech).
Projects Associated:
As M. Tech student researcher in "National Initiative on Climate Resilient Agriculture (NICRA)" (Sanction No. NICRA/CG/95/2011), sponsored by ICAR, New Delhi, undertaken in Agriculture & Food Engineering Department of IIT Kharagpur.
As Senior Research Fellow in "Operational Coastal Flood Management through Short-to-Medium Range (Real-time) Flood Vulnerability Mapping in the Brahmani-Baitarani River Basin Integrating Human and Climate Induced Impacts (OFM)" (Grant No. STARS/APR2019/ES/743), sponsored by MHRD-STARS, Bangalore, undertaken in School of Water Resources of IIT Kharagpur.
Academic and Lecturing:
He was departmental research scholar representative to IIT Kharagpur for the academic session 2016-2017.
During Spring-2015, 2016, and 2017, he was as a teaching assistant (TA) for the course 'Water Engineering Laboratory' being offered to Masters students at IIT Kharagpur.
TA for the course 'Engineering Drawing and Computer Graphics' taught to undergraduate students during Autumn-2019 and Spring-2020 semesters.
He lectured a hands-on session in Feb-2015 on Storm Water Management Model in the International Summer & Winter Term (ISWT) to the technical college teachers of Civil Engineering from different universities across India.
Publications
REVIEWED JOURNAL PAPERS
2020
Sahoo, B., Perumal, M., Moramarco, T., Barbetta, S., & Sahoo, S. (2020). A multilinear discrete Nash-cascade model for stage-hydrograph routing in compound river channels. Hydrological Sciences Journal, 65(3) 1-13. https://doi.org/10.1080/02626667.2019.1699243.
Sahoo, S., & Sahoo, B. (2020). Is hillslope-based catchment decomposition approach superior to hydrologic response unit (HRU) for stream-aquifer interaction modelling: Inference from two process-based coupled models. Journal of Hydrology, 591, December 2020, 125588. https://doi.org/10.1016/j.jhydrol.2020.125588.
2019
Sahoo, S., & Sahoo, B. (2019). Modelling the variability of hillslope drainage using grid-based hillslope width function estimation algorithm. ISH Journal of Hydraulic Engineering, 25(1), 71-78. https://doi.org/10.1080/09715010.2018.1441750.
Sahoo, S., & Sahoo, B. (2019). A geomorphology‐based integrated stream–aquifer interaction model for semi‐gauged catchments. Hydrological Processes, 33(9), 1362-1377. https://doi.org/10.1002/hyp.13406.
2018
Sahoo, S., Sahoo, B., & Panda, S. N. (2018). Hillslope-storage Boussinesq model for simulating subsurface water storage dynamics in scantily-gauged catchments. Advances in Water Resources, 121, 219-234. https://doi.org/10.1016/j.advwatres.2018.08.016.
REVIEWED CONFERENCE PAPERS and BOOK CHAPTERS
2022
Sahoo, S., & Jena, S. (2022). Basin-scale Subsurface Hydrology: Modelling of Stressed and Data-scarce Aquifers. In Water Resource Modeling and Computational Technologies. Elsevier. ISBN: 9780323919104
Jena, S. & Sahoo, S., (2022). Groundwater Sustainability: Role of Monitoring, Modelling & Management. In Water, Land, and Forest Susceptibility and Sustainability, Geospatial Approaches and Modeling. Elsevier. ISBN: 9780323918800
INTERNATIONAL CONFERENCES
Sahoo, S., and Sahoo, B. (2016). Statistical representation of stream network delineation algorithm-based hillslope width function. In HYDRO-2016, 21st International Conference on Hydraulics, Water Resources and Coastal Engineering, Organised by Indian Society of Hydraulics and CWPRS Pune.
Sahoo, B., Sahoo, S., & Swain, R. (2017). Modeling the river-aquifer flow-interaction using a coupled hsB- VPMM approach. In World Environmental and Water Resources Congress 2017, ASCE (pp. 172-182).
Sahoo, S., & Sahoo, B. (2018). Modeling the hillslope storage-discharge dynamics under changing climate. In AGU Fall Meeting Abstracts (H11T-1721).
Sahoo, S., & Sahoo, B. (2020). Travel Time Distribution-based River Basin Management Plan for Sustained Dry Season Flow. In AGU Fall Meeting Abstracts (H090-0010).
Mohanty, A., Sahoo, S., Kale, R., & Sahoo, B. (2021). Decoding the feedback relationship between recurrent flood and land use-land cover change in a deltaic river basin using remote sensing approach. In AGU Fall Meeting Abstracts (H43B-03).
Sahoo, S., Aryan, M., & Sahoo, B. (2021). Identification of hydrogeological hotspots for mitigating the future water scarcity due to land use and climate change in a river basin prone to mining activities. In AGU Fall Meeting Abstracts (EP41C-08).